According to new announcement from US Transportation Security Administration, air travelers may now carry liquids, gels and aerosols in their carry-on bag when going through security checkpoints. Formerly, US Transportation Security Administration had announced that; passengers may not have liquids or gels of any size at the screening checkpoint or in the cabin of the aircraft including beverages, shampoo, suntan lotion, creams, toothpaste, hair gel, and other items of similar consistency and such items may be transported in checked baggage.

Rules
1. All liquids, gels and aerosols must be in three-ounce or smaller containers. Larger containers that are half-full or toothpaste tubes rolled up are not allowed. Each container must be three ounces or smaller.
2. All liquids, gels and aerosols must be placed in a single, quart-size, zip-top, clear plastic bag. Gallon size bags or bags that are not zip-top such as fold-over sandwich bags are not allowed. Each traveler can use only one, quart-size, zip-top, clear plastic bag and these bags will be provided by passenger.

If you need larger amounts of liquids, gels and aerosols such as toothpaste or shampoo, please place them in your luggage.

To ensure the health and welfare of certain air travelers there are no limits on the amounts of the following liquids, gels and aerosols you may carry through a security checkpoint:

1. Baby formula and breast milk if a baby or small child is traveling;
2. All prescription and over-the-counter medications (liquids, gels, and aerosols) including KY jelly, eye drops, and saline solution for medical purposes;
3. Liquids including water, juice, or liquid nutrition or gels for passengers with a disability or medical condition;
4. Life-support and life-sustaining liquids such as bone marrow, blood products, and transplant organs;
5. Items used to augment the body for medical or cosmetic reasons such as mastectomy products, prosthetic breasts, bras or shells containing gels, saline solution, or other liquids; and,
6. Gels or frozen liquids needed to cool disability or medically related items used by persons with disabilities or medical conditions.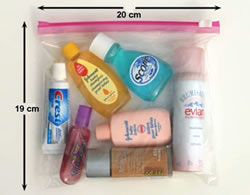 You are not limited in the amount or volume of these above items you may bring in your carry-on baggage. However, if these items are in containers larger than three ounces, please perform the following:
1. Separate these items from the liquids, gels, and aerosols in your quart-size and zip-top bag.
2. Declare you have the items to one of our Security Officers at the security checkpoint.