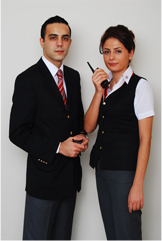 A boost in growth arising especially in recent years in the security industry, which is in a continuous development and progress, has made this field of activity much more meaningful and attractive for job opportunities. Gözen Security Services, leaving 25 years being with a rooted corporate culture and consistent policies, aims to be one of the most important companies of the industry as today and in the future.

Gözen Security Services, considering human being as the most important source, grows this family with its fast, confidential, observant and responsible staff.

Being a member of Gözen Security Services means to be a big family in a working area based on cooperation and solidarity.