On 6 November new security measures will come into effect for all passengers departing or transferring from member states of the European Union airports.

Liquids
Passengers may carry small quantities of liquids, but only within separate containers each of which with a capacity not greater than 100 ml.

These containers must be brought to the airport contained in a single, transparent, re-sealable plastic bag, which itself must not exceed 1 liter in capacity (approximately 20 cms x 20 cms). The contents of the plastic bag must fit comfortably and the bag sealed. Each passenger may carry only one such bag of liquids

The bag must be presented for examination at the airport security point.

Liquids that can not be placed inside the re-sealable bag must be packed into the hold luggage and checked in. Liquids of any amount can still be carried in luggage checked into the aircraft hold.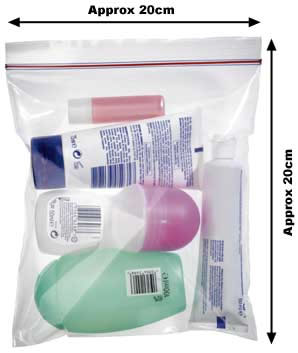 Remember that "Liquids" includes:
All drinks, including water, soup, syrups
Creams, lotions, oils, perfumes, mascara etc
Sprays and pressurized containers including shaving foam and spray deodorants
Pastes, including toothpastes
Gels, including hair and shower gel
Any other solutions and items of similar consistency
Medicines
Essential medicines and baby food may be permitted in larger quantities above the 100 ml limit, but will be subject to the authentication that is already currently required.
Cabin baggage and size allowed
Each passenger is restricted to carrying only one item (in addition to the re-sealable liquids bag) through the airport search point.(maximum cabin baggage size 56 cm x 45 cm x 25 cm. for UK )
Pushchairs, walking aids and wheelchairs are permitted but will be screened.
Laptops / electrical items
Laptops and other large electrical items (e.g. a large hairdryer) will still have to be removed from cabin baggage and screened separately. A laptop bag will be regarded as your one item that is allowed in the cabin.
Outsize items
All items of luggage which do not fit in the permitted cabin baggage size must be checked in to be placed in the aircraft hold. Musical instruments will, as an exception, be allowed as a second item of cabin baggage, but will need to be screened and passengers should check with their airlines if special arrangements (e.g. purchasing an extra seat) for these large instruments will be required.
Before you arrive at the airport
Limit quantities to what you may need in the cabin for the duration of the flight.
When possible, put liquids in hold baggage.
Prepare the re-sealable bag of liquids before arriving at the airport.
Check any queries you have with your airport or airline before traveling to the airport
At the security point
Be ready to hand over your re-sealable bag of liquids for screening as you approach the security check point. It will be screened at the same time as your cabin luggage.
All coats and jackets will have to be removed ready to be screened and metal items including wallets will be placed in plastic trays and scanned separately.
If you are carrying a Laptop or any other large electrical item within your cabin luggage then please have it ready for separate screening as you approach the security check.
Duty free / departure lounge purchases
You may take on board liquid items of any size that are purchased after the security check in the Departure lounge (sometimes referred to as "Airside").
Most duty free or similar purchases will be given to you in a special sealed bag. Do not open this bag until you have reached your final destination. You should also retain your proof of purchase throughout your journey. You will be required to show it at all transfer points.
If you are departing from a non-EU airport and transferring through an EU airport, any duty-free item purchased from non-EU airport will not be accepted on your transfer flight.
The member states of the European Union are:
Austria, Belgium, Cyprus, Czech Republic, Denmark, Estonia, Finland, France, Germany, Greece, Hungary, Ireland, Italy, Latvia, Lithuania, Luxembourg, Malta, Netherlands, Poland, Portugal, Slovakia, Slovenia, Spain, Sweden, United Kingdom.
Croatia will also introduce the new measures on 15th December and they will apply to all flights (domestic and international traffic)